Horse racing contest players turned out Saturday, Sept. 2 to play for a cause – Hurricane Harvey relief. Handicappers for Harvey, hosted by DerbyWars.com, raised $1,500 through 127 entries for Global Giving's Hurricane Harvey Relief fund.
The idea came from Andrew Calvano (Stjohnshorsereport) and Bobby Shoemaker (2turnturfraces). The contest featured races from Saratoga's final Saturday card, including the Woodward Stakes.
"It was a great idea and very heartwarming to see all the players that responded," said Mark Midland of DerbyWars. "The devastation from Harvey that we have all see in  unbelievable.  I think everyone is asking 'What can I do?'  We hope that this money helps those affected in some small way.  And we hope all these efforts continue to inspire others to get involved in any way they can."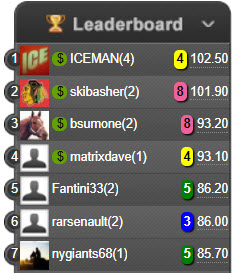 The winner was Dan Weisenburger (ICEMAN), who finished with a final score of $102.50.
2nd-place finisher, Garett Skiba (Skibasher), was only 60-cents behind with a score of $101.90.
NHC Tour 2013 champ, Brent Sumja (Bsumone) finished in 3rd place, with Dave Vaccaro (Matrixdave) in 4th place, Ed Peters (Fantini33) in 5th, Ray Arsenault (Rarsenault) in 6th and Toby Simonda (Nygiants68) in 7th.
The top 4 received small cash prizes, with 5th-7th place taking home gift packages donated by Calvano, Shoemaker and DerbyWars.
Global Giving's Hurricane Harvey Relief fund supports local efforts providing immediate needs like food, housing and medicine as well as cleanup and other recovery work. The 4-star rated charity has raised over $2.6 Million in just 14 days.